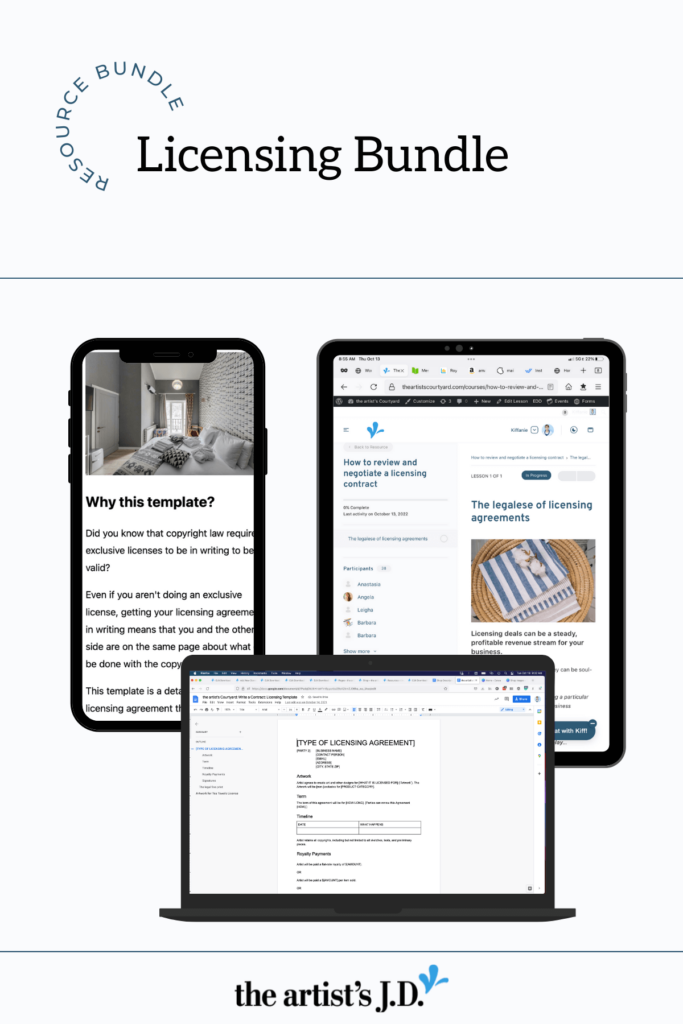 Licensing deals can be a steady, profitable revenue stream for your business.
This licensing bundle will give you the resources (and confidence) to start licensing your work with all your legal ducks in a row.
This bundle includes our Licensing Agreement Template and the Reviewing and Negotiating Licensing Agreements workshop. So you'll either have a contract you can give or feel confident understanding the contract your licensee provides you.
What's included in the licensing agreement template
This agreement is designed for creatives that want to license copyrighted material including:
artwork
illustrations
photographs
course content
written material
videos
It's a detailed ~6-page agreement that's fair to both you and your licensee. And it makes sure that you and your licensee have the exact same understanding about what products, uses, or ways the licensed content can be used.
It also includes an example of how I'd customize it for using artwork on tea towels.
You'll get:
Instant access to an 6-page Google Doc template agreement that you can save to your own Google Drive or download to edit.
Instant access within the Google Doc to an example of how the template agreement might be customized to license artwork for tea towels.
Instant access to an ~38-minute closed-captioned video walking you through the agreement and explaining what it says so you can easily explain it to your licensees and customize it to fit your situation.
Instant access to the written transcript of the video as a Google Doc for those who prefer to read.
Even though the template is six pages long, my hope is that your finished contract is three pages or less!
Inside you'll find information on when it's appropriate to remove certain sections based on the kind of licensing deal you make. And the template gives you:
Three options on how you'll be paid (flat-rate, amount per item sold, royalty rate)
A requirement that you are given regular statements of what is sold
The ability to audit their records if you believe you aren't being paid fairly
The ability to end the license if they aren't paying you your royalties
And as a bonus, you'll also get access to our Write a Contract course so you can feel even more confident about your licensing agreement.
What's included in the reviewing and negotiating licensing agreement workshop
In this workshop you'll discover how to:
understand common sections of a licensing agreement
spot common contract "tricks" that companies will try to pass off on those who don't read the fine print
approach negotiating a licensing agreement, including which sections you commonly can (and can't) negotiate
Once you finish this workshop, you'll be able to confidently decide if signing this licensing agreement is a good business decision.
And you'll get access to:
an ~132-minute closed-captioned video lesson breaking down the legalese of licensing agreements and which sections I commonly negotiate
a written transcript of the lesson, for those that prefer to read
to the workshop slide deck
a Google Doc containing 14 common and tricky sections you might see in a licensing agreement
a Google Doc containing a checklist you can use to evaluate if signing the licensing agreement is a good business decision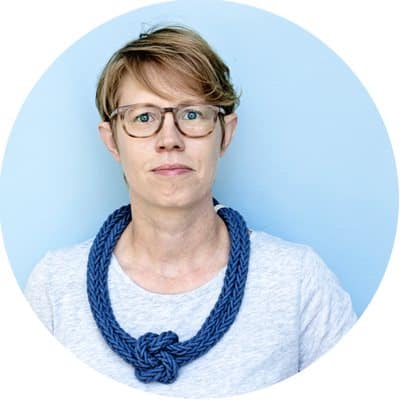 Why should you buy from me?
Everyone's brain works differently. Some people learn by reading, others learn by listening, and others learn by doing.
This is why when you buy from me, you aren't just getting a resource bundle.
You are getting:
a set of resources designed to help you, in whatever way you work best
a 24/7 place to leave questions when you are stuck, so I can help you get unstuck
access to a licensed attorney that actually *gets* how a creative business operates
a community to help support you as you navigate getting your legal ducks in a row
Pick the best option for you…
Licensing Bundle
$370
(one-time)
Instant access to the licensing contract template
---
Instant access to our workshop on how to review and negotiate licensing agreements
---
24/7 access to our private online community
the artist's Courtyard
$450
(per year)
Instant access to the licensing contract template
---
Instant access to our workshop on how to review and negotiate licensing agreements
---
Instant access to our art licensing rate database so you can get paid fairly
---
Instant access to our contract legalese translator
---
24/7 access to our private online community
---
Instant access to 14+ other courses and workshops
---
Instant access to 5+ contract templates
---
Instant access to 20+ checklists and quick videos
---
Access to Friday accountability check-ins
---
Access to quarterly Q&A sessions
---
Access to quarterly online workshops